Financial
Results
Unaudited Half Year Financial Statement And Related Announcement For The Period Ended 30 June 2011
Consolidated Income Statement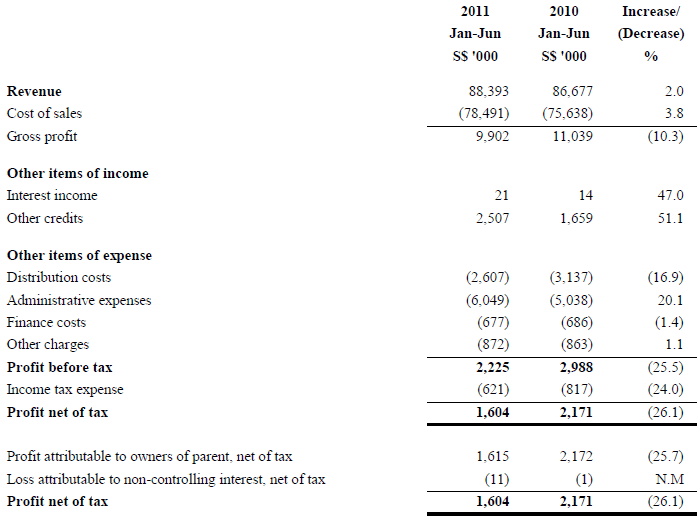 Consolidated Statement Of Comprehensive Income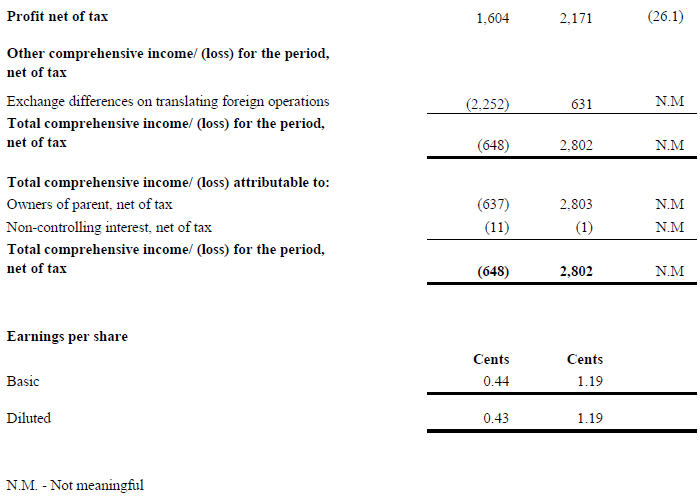 Balance Sheet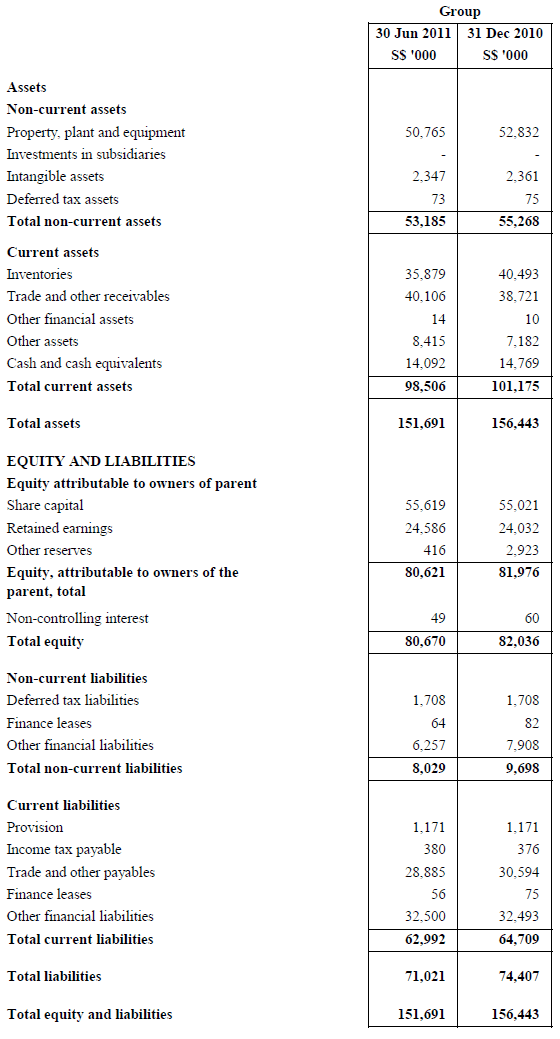 Review of Group Performance
Revenue
Despite a slowdown in the manufacturing sector, Group's revenue increased by 2.0% to S$88.4 million for the period under review.
For revenue by geographical segments, Singapore market contributed S$43.1 million while the China market generated S$41.7 million, the aggregate of which accounted for 95.9% of the Group's revenue. For other operations in Vietnam and the Philippines, revenue decreased slightly by 2.0% to S$3.6 million for 1HFY2011.
Revenue for the metal packaging business remained stable at S$56.1 million accounting for 63.5% of the Group's revenue. Sales volumes increased more than 3% to 25.7 million units of container cans, pails and drums as compared to previous corresponding period.
The flexible packaging business has been growing steadily and revenue rose by 4.2% to S$27.7 million for the period under review.
Profitability
Gross profit decreased to S$9.9 million (1HFY2010: S$11.0 million) due to new plants set up in Pune, India and Tongxiang and Tianjin in China.
Other credits, which relate mainly to scrap sales, jumped by 51.1% to S$2.5 million for 1HFY2011 due to higher sales volume and a general rise in scrap materials price.
Distribution costs decreased by 16.9% to S$2.6 million, mainly attributable to lower warranty claims of S$0.4 million.
Administrative expenses climbed by 20.1% to S$6.0 million, primarily due to higher staff costs, larger scale of operations and business expansion.
Finance costs were down by 1.4% to S$0.7 million due to a lower level of loan utilization during the period under review.
Net profit attributable to shareholders was down by 25.7% to S$1.6 million in 1HFY2011, as compared to S$2.2 million in 1HFY2010.
Balance Sheet and Cash Flow
As at 30 June 2011, total assets decreased by S$4.8 million to S$151.7 million (31 December 2010: S$156.4 million) while total liabilities declined by S$3.4 million to S$71.0 million, as compared to S$74.4 million as at 31 December 2010.
In line with the increase in sales volume, trade and other receivables increased by S$1.4 million to S$40.1 million. Inventories dropped by S$4.6 million to S$35.9 million which led to a reduction in trade and other payables balances of S$1.7 million to S$28.9 million.
In 1HFY2011, the Group invested S$2.9 million in new property, plant and equipment in its facilities in Tianjin and other existing locations. After accounting for depreciation charges and translation differences, this resulted in a net decrease in property, plant and equipment to S$50.8 million from S$52.8 million as at 31 December 2010.
As a result of improved working capital management, operating activities in 1HFY2011 generated positive net cash flows of S$4.6 million, as compared to an outflow of S$0.5 million cash in 1HFY2010.
Net cash outflows from financing activities were at net S$3.5 million, mainly due to the dividend payment and repayment of bank borrowings.
The Group maintained a relatively healthy financial position as at 30 June 2011. The net gearing ratio maintained stable at 30.7% as at 30 June 2011 compared to 31.5% as at 31 December 2010.
Commentary
The expected volatility in raw materials prices and increasing inflationary pressures remain a growing concern for the Group.
The demand for the Group's metal packaging products is expected to remain steady in China, fueled by the continual urbanization and needs for infrastructure and housing projects.
The Group expects its new plant in India to commence operations in the fourth quarter of 2011, thereby providing the platform for the Group to tap into the growing packaging demands.
Barring any unforeseen circumstances, the Group is cautiously confident that it will remain profitable for the remaining of the financial year.